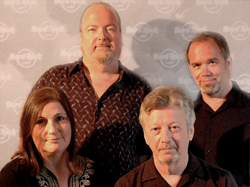 Sandy and the Hitmen continue rocking after 30+ years. Shel Kenyon has re-joined the band, now a "5 piece" Americana outfit.

Sandy Hinding, legendary roadhouse singer, leads one of Minnesota's best vocal bands.
Acoustic or Electric, their treatment of British invasion, Alt Country & Hippy Songs is fresh.
The songlist is large.
Good times are had.
Still singing sweet country, recalling sixties brit pop, channeling LA troubadors and shaking the walls with anthemic rock, the band rolls on in their fifth decade.
The Acoustic act includes Beatles, The Weight, CSNY classics, Blue Bayou, California Dreamin, and great old school sing along songs. Hire us to entertain your soiree. The Hitmen like House Parties.. clubs.. opening sets.. Whaddaya got? Contact: chris @ alphabitsband .com email
The Hitmen play reverent renditions of:
The Beatles, Jefferson Airplane, Janis Joplin, Tom Petty, Linda Ronstadt, Patsy, The Boss, Dylan, Stones... Alt/Country Rock..
Americana
AlphaBits has entertained hundreds of thousands of kids in 10+ years
and 1,000+ shows.

AlphaBits performs 30-40 minute shows for parks, fests, ecfes & parties.


SCHEDULE:facebook.com/AlphaBitsband
Email: chris@alphabitsband

Great musical entertainment for your kids,
ages: pre-school to about 2nd grade.

Park concerts include Edina, Eden Prairie, St. Louis Pk, Rosemount, Inver Grove Hts, SSP & Blaine. AlphaBits have rocked County Fairs.. the Minnesota Twins.. and United Hospitals. Dozens of ECFEs and a bazillion childcares have enjoyed AlphaBits.